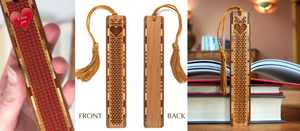 Ultimate Valentine's Day Gift Ideas for Her!
Valentine's day is not far away, and you might have started thinking of gift ideas for your partner. However, selecting the right gift can be an overwhelming task due to the plenty of options around you. In addition, you also need to take your partner's likes and dislikes into consideration. For example, if she is a bibliophile or a book-lover, then family bookmarks or love quote bookmarks will be a preferable gift choice. Thus, here are some amazing gift ideas for your partner for this Valentine's day.
A Timeless Piece of Jewel
What can be a more precious gift for your partner than a timeless jewelry piece? There is a range of jewelery options available in the market. Gift your mother a beautiful jewelry piece like necklace, earring, bracelet, ring, or anklet. Your partner will never forget a classic pearl necklace or gold earrings. Moreover, you can also personalize the jewelry piece with the name, initials, or symbols. When it comes to giving a gift to your loved ones, money is never the question. No matter how cheap or expensive your gift is, your loved ones will always cherish it.
Customized Bookmarks
Is your partner an ardent book-reader? If yes, book-related accessories like customized bookmarks will be a perfect gift. A love quote bookmark with tassel will be an ideal gift option for Valentine's occasion. Bookmarks come in a variety of styles, such as family bookmarks, engraved bookmarks, and many more. You can buy a bookmark according to the likes of your partner. For example, if your partner adores cartoon characters, you can gift a fun bookmark like Winnie the pooh bookmark. Or, if she loves to read novels, you can buy author bookmarks. Choose the bookmark that resonates with the likes of your partner.
Photo Frame
A personalized family photo frame would be a sentimental gift for your partner. There must be several beautiful moments that you captured with your partner. Arrange all those pictures into a photo frame and make a collage. You can also include a gratitude note for your partner with those photos to show your love. It will be a special and unforgettable gift for her. You can easily find a plethora of photo frames of different sizes, styles, and designs. From big to small frames, everything is available in the market. So, you can purchase according to your wish and add your partner's pictures to it.
Coffee Machine
If she is an avid coffee-lover, then nothing can be a better gift than a coffee machine. It will add convenience to your partner's daily routine. Not only will it become easier for her to make a hot brewing coffee, but it will also save her time. Thus, it is not just special but a very useful gift that will add value to lifestyle. Coffee machines range from basic to complicated ones, and you can buy as per your preferences and budget. You can also gift a customized coffee mug along with the machine.
Takeaway!
These are some amazing gift ideas for this Valentine's day. You can select one of these and gift it to your partner. Apart from jewelry, photo frame, coffee machine, and author bookmarks, you can also think of other items like a makeup product. Besides, spend your time with your partner on Valentine's day and make the day more special.
---