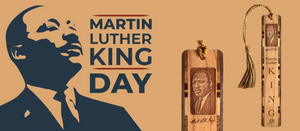 How to Celebrate Martin Luther King Jr. Day with Kids in 2022?
To honor the struggles and sacrifices of Martin Luther King, we celebrate Martin Luther King Jr. day as a national holiday on 17 January every year. It marks the birth anniversary of Martin Luther King Jr. This great leader fought for civil liberties and paved the way for a better future. We all should commemorate his memories on this precious day with our kids with activities like creating his picture collage or personalized bookmarks. Here is how you can celebrate and teach your kids about Martin Luther King Jr. day.
Teach Significance of the Day
Start the day by teaching your child about who Martin Luther King Jr. was, his ambitions, and achievements. Educate your child about what civil rights are and the struggles of Martin Luther King towards establishing civil rights for all. Tell trivia facts about Martin Luther, such as he was the youngest man to receive the Nobel Peace Prize for his efforts. You can't teach the significance of the day without explaining the vision of Martin Luther King Jr. It is necessary first to tell your kids why we celebrate the day.
Read the Books about Martin Luther
The best way to teach about the life and work of King to your child is by reading the books. You will find a plethora of books on Martin Luther King. You can either buy these books from stores or borrow them from libraries. Some popular children's books on King's life include 'My Brother Martin' by Christine King Farries, 'I am Martin Luther King Jr.' by Brad Meltzer, 'My Uncle Martin's Big Heart' by Angela Farris Watkins, and many more.
All these books instruct about the values of Martin Luther King and important events of his life. Some of them also include his speeches that can also inspire your kids. Moreover, you can further develop the interest of your child in reading books by using Martin Luther King bookmark. The use of such personalized bookmarks while reading can be very effective in generating curiosity in your child to read more.
Watch the Whole Speech Together
Apart from reading, you can also let your child know about Martin Luther King through media. Together as a family, you can listen or watch King's popular "I Have a Dream" speech, delivered on the Lincoln Memorial on 28 August 1963. There is no better way to honor the memories of Martin Luther King on his day. The inspiring speech can open new horizons of dreams for your child and fill them with motivation to make the world a better place. Furthermore, you can encourage your child to share their dreams and hopes.
Ask your child to write down those aspirations or dreams on a piece of paper or draw pictures based on them and then hang it in their room as a source of inspiration. Besides, you can watch movies based on the life of Dr. King. Some famous movies that you can watch with your kid are 'Boycott' (2001), 'I am not your Negro' (2016), 'The Boy King' (1986), 'King in the Wilderness (2018) etc. Watching a documentary on Dr. King will also be a great way to celebrate the day and honor him.
Look For Virtual Events
Before the pandemic, it was easy for you to commute from one place to another to attend events or parades on this Martin Luther King Jr. day. However, the scenario has now changed, and you can't plan culturally enriching outings with your kids these days. But you can still be part of virtual events without leaving the premises of your house and taking any risk.
Check out if any virtual community celebration or virtual parade has been organized to honor the day that you can watch with your kid online. It will be a great learning experience for children. Moreover, there are many streets named after King Jr., and you can show these places virtually to your child. Use online resources to give the endless opportunity to your kid to learn about this influential personality.
Do Creative Activities
Bring out the creative side of your kids on this occasion by creating art projects. For example, you can have your child make posters or scrapbooks on Martin Luther King Jr. You can ask them to create a collage with the pictures of King. In addition, to make the day more fun, you can make creative family bookmarks with your child. Show your skills and make an artful sign for peace and justice. Then, paste them on the window or doors of your living room.
Takeaway
Hopefully, now you know how to honor and celebrate Martin Luther King Jr. day with your kids. There is no right or any particular way to celebrate the day, but you can do these activities to equip your child with the knowledge and values of Dr. King. He was a great civil rights leader who never backed down and stood steadily against racism.
Let your child be aware of his courageous deeds to create a better world where people can live with peace and equality. In his remembrance, you can buy a Martin Luther King, Jr. engraved wooden bookmark containing his picture. Or you can gift your child a quote bookmark with the quotes of Martin Luther King.
---