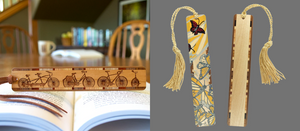 Fun Bookmarks to Help You Pick Up From Where You Left
A bill receipt or a folded page corner? An optimistic belief that you will remember the page number. All of us have our ways of marking our place in a book much before we close it, till we resume reading till the next time. But, undeniably, far too often, the methods we choose to mark the last page are unreliable or unattractive.
And yes, all those dog-eared page corners will still remain on your books even long after you have finished reading! There is, however, a way easier and more exciting solution: Bring back the bookmark! Like a tulip bookmark, a good bookmark will hold your place more reliably than a grubby bit of scrap paper. Cute nature bookmarks will also help maintain the structural integrity of each page in the book while keeping it preserved.
Once you've got your hands on a good bookmark, you won't ever want to go back to the dark days of making random guesses on whether you were at page 79 or 97. Explore some of the best bookmarks, like the tulip bookmarks that are for readers who wish to add some extra whimsy to their reading routine.
Tassel Bookmarks
Engraved wooden bookmarks like the golf bookmark are one-of-its-kind. This bookmark is handmade from only the finest sustainably harvested woods in the USA. It is designed with a tassel to keep your book pages properly marked. This unique bookmark will help create a more intimate, personalized reading experience, a true work of craftsmanship. It even makes a perfect bookmark for all readers and golf lovers!
Butterflies
Ever wanted to have a real Disney princess moment, consider buying butterfly bookmarks. Place it on your book page's corner, and it looks like a butterfly has perched on your book. You can find it in a plethora of colors and designs.
Literary Feet
Remember how the house fell on the Wicked Witch of the East in The Wizard of Oz and only her feet stuck out? How about recreating that iconic movie scene with a bookmark. What's even better, unlike the movie, this bookmark's design isn't just restricted to just the witch; you can get all kinds of famous book character feet to stick out of your favorite book. A few literary legs available include Alice from Alice in Wonderland, a magician from Harry Potter, and a dire wolf from A Song of Ice and Fire. You can even opt for other non-book selections, like animals, ballerinas, and Yoda.
Pointers
If you are looking for bookmarks that can mark the exact place in the book, but without the help of magnets, then these pointers are for you. They have a very interesting design, and they creatively come with stretchy loops that wrap around the entire book. A hand pointing can help you pinpoint the exact word where you have stopped, in case you're the type that stops reading mid-sentence.
Lamp Bookmark
This lamp-shaped bookmark will beautifully illuminate where you left off. The lamp bookmark is creatively designed where the shape sits on top of the book while the yellow light beam fits snuggly between the pages.
---