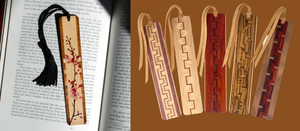 5 Reasons to Invest in Customized Bookmarks
Handmade Wood Bookmarks for Men, Women, Teachers, Students, and Graduates: 5 Reasons to Buy Customized and Unique Bookmarks
Bookmarks are more than just a functional accessory for booklovers. They are highly customizable and come in various styles and shapes, making them a popular collectible item. Handmade wood bookmarks, such as cherry blossom bookmarks, author bookmarks, and quote bookmarks, are some of the many options available for purchase. Here are the top five reasons why you should invest in customized and unique bookmarks:
To Keep Track of Your Book's Page: As a regular book reader, it is essential to remember the last page you read. A customized bookmark allows you to mark the page so you can pick up the story where you left off. This ensures that you never get lost when you start your next reading session.

To Maintain the Good Condition of Your Book: Instead of folding the corner of a page or making marks with a pen or marker, use a bookmark to keep your book in good condition. This prevents terrible book mutilations and ensures that your book looks new and clean no matter which page you are on.

To Gift Your Booklover Friend: Customized bookmarks make a great gift for booklovers, especially on special occasions like birthdays, Valentine's Day, or Christmas. With a variety of custom styles available, you can choose a bookmark that fits your friend's personality, interests, and preferences.

To Promote Your Business: Marketers can use customized bookmarks as a promotional item to advertise their brand. With the option to print a brand's logo or name on a bookmark, they are a great giveaway item that enhances brand visibility and value.

To Make an Impression: Using a beautiful customized bookmark can create a lasting impression on other readers. It is also an opportunity to showcase your favorite hobbies, movies, quotes, authors, or characters.
In conclusion, there are many reasons to purchase customized and unique bookmarks. Whether you want to keep track of your book's page, maintain your book's condition, gift a booklover friend, promote your business, or make an impression, bookmarks are a versatile and functional accessory. For premium-quality handmade wood bookmarks, you can purchase in bulk from online stores like Miter Craft.
---