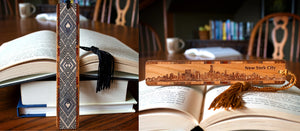 2022 Gift Ideas for Your Bookworm Friend
If you know someone who loves to read, gifting them can be a really tough job, especially if you don't have to buy specific titles. After all, every bookworm has already steamrolled through that book or they won't like the genre you might have picked up for them.
If you are finding it difficult, what to gift them then spare a moment to know the list of items like handmade wood gifts, floating shelves, etc. that will be loved by the bookworms in your life.
Floating Bookshelf
You can gift them lovely-looking traditional bookcases that are feasibly sized as per the living space availability. The floating bookshelves look minimalistic and make a fun and flexible way to organize a book collection.
For the Classy Reader- Bookmarks with Quotes
Nothing says "Read Everything..." quote by William Faulkner Wooden Bookmark with Tassel. Such Bookmarks with quotes are handcrafted to perfection using hand selected hardwoods. Place it anywhere in a cookbook, a map, an old classic novel, a new favorite mystery, or an instruction manual, etc.
For Whimsical Readers: Nature Bookmarks
Nature bookmarks are perfect for your giftee if they are a nature lover. For instance, you can opt for the 4 leaf clover bookmark for the nature lover in your life. Just in case you have no budget for a gift, you may give a DIY gift like making custom leather or sturdy bookmarks yourself.
Bunch of Bookmarks
You can even present a bunch of bookmarks together. This is a great idea because an avid reader usually reads more than a book simultaneously. They are aware of the importance of bookmarks very well as they find them as a special and symbolic gift. So, you can gift them a mix of different bookmarks containing city bookmarks like the nyc bookmarks, music bookmarks, etc.
Eye-Glasses Holder
Any dedicated reader is sure to use reading glasses that are no less than a boon to them. For the reader who have faded near-vision often tend to lose their spects around the house. Help your book lover by giving them an adorable eyeglass holder. Find them in different shapes and designs and it will make a perfect perch to set a pair of glasses on and remember where they are when they're needed.
Big Blanket
Make the reading experience of bookworms even cozier by getting them a big blanket. Well, not just them, but everyone loves an extra-large blanket made of temperature-regulating polyester and spandex, which makes it soft, stretchy, and comfortable, perfectly designed to work well in every season. Look for blankets that are machine-washable and easy to fold and store. So, if you're high on budget and the next time your booklover friend or family member needs something to curl up under as they read, feel happy to gift them a big blanket.
Page Holder
Another important accessory besides a sea turtle bookmark is to gift any serious reader a page holder or paperweight. This will make reading easier, as one can read with just one hand or even without using hands.
---